CARLA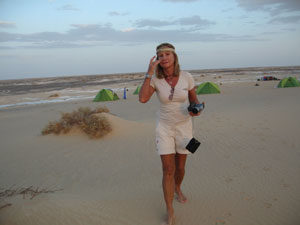 "That which the Desert wants, the Desert has." And so it was. My life has been marked by the desert, all the most important passages, the most significant moments are born there, between the sand and the sky.
Returning each time is a surprise, a discovery, a new page written in my story. How is it possible that today, after many years, the Desert still manages to amaze me, give me a new excitement, open new doors to guide me on my path of that great mystery which is life.
On my Desert trips alone I suffered, I cried, I rejoiced. In a word: I lived. And I continue to do so with Desert Therapy. I live every start as if it were a new challenge, with the same curiosity I had when, for the first time I went to walk by myself along with the Tuareg, and each time I return richer, more aware, and happier.
Thanks to the Desert, my life has changed profoundly and the discovery continues, day after day, step by step. New friends are added along the way and with me they mark the sand with their footprints, sharing the fatigue and the sensations. Also this I have learned from the Desert, my great love for which I was always jealous: that the joy, and the discovery of oneself is right to share with others, to teach my companions who follow me along the way to know and to love themselves and life…..
Other deserts are waiting for me, other friends will join me, other stories will be born and will end, but love will flow in every moment, as has happened since I met it.
And it will always be there, the absolute master of space and time, ready to take us by the hand, and guide us in the discovery, protecting us and touching us. And thanks to it, love never ends.
MAX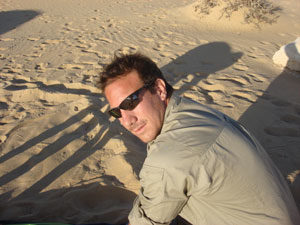 I started my adventure with Desert Therapy with a certain detachment. I remembered the desert that I knew as a child together with my mother, but returning was a new discovery.
I found a friend, a place that is left to be discover even in small things. My role is less fascinating than that of Carla who talks about the magical place with those who walk with her, or to that of Lauren, who with yoga and meditation gives a great inner peace to her fellow travellers. My job is to organize the camp, to interact with the staff to ensure everything runs smoothly without invading the privacy of our guests. Despite everything, the desert took me to a point that here, on a white pinnacle above one of our camps, I decided to ask my companion to unite our lives, and become my wife and continue together along our path.
LAUREN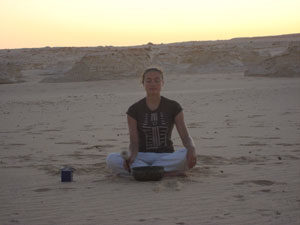 Awaking each morning to the silence of dawn, with anticipation for the day. Feeling the warm rays of the sun dance across my face as they peek over the horizon to great me during morning meditation. Letting my tired feet sink barefoot in the sand after a long day of hiking with desert boots. Hearing the stories of Carla while drinking mint tea around the fire with the marvelous star-filled sky above. These are the emotions I am filled with when recalling my trips with Desert Therapy. I hear and feel the peace of the gong resonating through the sand, emptying my mind of all thoughts. There, I feel whole. There, I have no wants and no stress.
I feel fortunate to be able to collaborate with such a beautiful experience. There is no greater satisfaction than turning to see my travel companions after leading a yoga session and seeing the sense of peace on their faces. Also for me the desert and this trip is therapy.